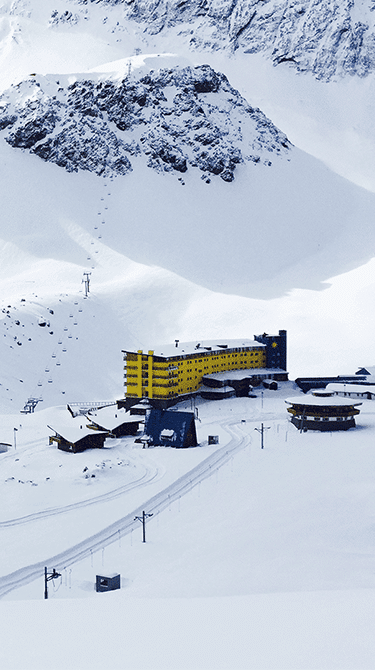 Discover Ski Portillo Chile
Ski Portillo, South America's first ski resort, is renowned worldwide. The ski-in/ski-out resort is open from late June to September, during the North American summer. Located in the heart of the Chilean Andes and surrounded by stunning peaks, Ski Portillo Chile attracts skiers and snowboarders of all ages who come to enjoy incredible snow on slopes suitable for beginners, intermediates & advanced skiers. Ski Portillo believes in skiing as it should be –  connecting with the mountains, and enjoying skiing in a unique setting. 
At Ski Portillo, you'll always receive a warm welcome,  meet old and new friends, enjoy great wines, and enjoy a lively ápres-ski scene. A place where friends and memories are made. Join us for your next ski vacation and live the Portillo Experience.
Portillo is dedicated to skiing as it should be. A fun group of compatible people enjoying the best of all adventure sports in beautiful, uncrowded conditions. That's the way I like to ski and I think you will too. I hope that you will decide to join us this season!
8 reasons to choose Ski Portillo Chile
An inviting, relaxed atmosphere
Personalized and attentive customer service from the moment you check in as well as the owners themselves welcoming you to Portillo and taking you on a unique experience.
Uncrowded slopes and lifts
Slopes for every level that are free of crowd and lift lines. The terrain at Ski Portillo gives you a feeling of freedom and connection with the Mountains like no other.
Ski In & Ski Out
Ease of access. The true meaning of ski-in/ski--out, being able to step right out the door to the middle of the Andes mountains and world class skiing hassle-free.
Off Piste Terrain
Above treeline, most runs offer the possibility of exploring incredible off piste terrain with great snow conditions - the possibilities at Portillo are endless.
Après Ski Scene
The fun doesn't stop when the skiing does. Every day there are activities and opportunities to meet friends with a fun apres ski scene for all interests and ages.
A Breathtaking Landscape
Whether from the hotel or the slopes, the views never get old. Breathtaking scenery of the Andes mountains and the Lake of the Inca bring magic to every day.
Cuisine and Wines
Chile is renowned for its wines which are strongly paired by the delicious cuisine found at Portillo, featuring Chilean and international dishes.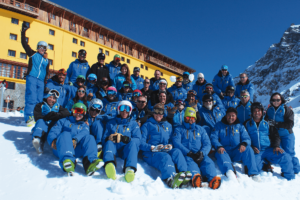 World Class Ski and Snowboard School
Ski instructors from around the world flock to Portillo to teach their craft during the Northern hemisphere summer.
Whether visiting us as a family, a group of friends, as a couple or on your own, there are plenty of lodging options to choose from for your ski vacation in Chile. All our lodging programs at Ski Portillo Chile include 4 daily meals, unlimited lift access & use of all hotel amenities.
Ski Portillo offers different packages, promotions, theme weeks and ski camps throughout the ski season for you to get the very best out of your ski vacation in Chile.
Special weeks at Ski Portillo
12 - 19 August
Friends Week
Portillo invites their friends, new and old, for a week of fun and bonding, a moment to leave your schedules behind and enjoy life, good people, great skiing, and the beautiful Andes Mountains. On this week, we organize many special après ski activities so you can let your hair down, dance, drink, meet new friends and create new memories.
19 - 26 August
Wine Fest
Opportunity for guests to learn more about the wonderful world of wine and of course, enjoy some of the best wine that Chile has to offer. Each afternoon guests will be able to wind down while enjoying and learning about and trying different Chilean Wines, as well as talking to the winemakers.
July 29 - August 05
Wine Week
We invite renowned Chilean wineries to organise wine tastings and special pairings. This week is one of the most popular among hotel guests and so we recommend making reservations in advance.
22:00 -24:00
Live music
Enjoy the live music performance which starts in the bar of the hotel at 10pm. Enjoy a glass of wine or a pisco sour whilst listening to old favorites with both old and new friends. .
12:00 - 20:00
Soak in the heated pool & hot tub
For relaxing after a hard day of skiing there is nothing better than soaking in the jacuzzi or enjoying the heated pool whilst gazing out at the mountain view.
Awesome old-school hotel at 9800 feet in the Andes. Excellent meals, first rate service, comfortable room with a beautiful view. The skiing is fun too! The apres ski is legendary. Lots to do too, from Heli skiing to massages to swimming and hot tubbing.
docdux
What a great family Ski experience. We booked a "mini-week" for us (2 adults & 2 kids) ... and it was really one of our great trips. The level of service in the hotel is just amazing ... everyone strives to serve you with a great smile .... We are definitely coming back next year !!
C V
Stayed here with a big group of skiing gals from Minneapolis during Chilean Wine Week, 2018. What a week! It's more than a hotel, it's an experience..... The mountain scenery is beautiful and the slingshot lifts make for another adventure! We had a fantastic time it's a special place.
Stumbalina
Explore Chile with Tierra Hotels
The Tierra Adventure & Spa Hotels, our sister hotel, owned and run by the Purcell family, owners of Portillo. They offer a unique way to explore and discover fascinating, remote & beautiful places in Chile